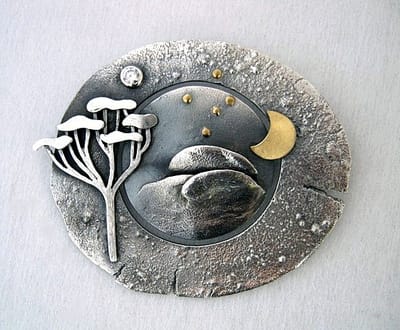 I grew up in Pforzheim, a city of jewellers and watchmakers in West Germany, located at the northern end of the Black Forest. My ancestors lived in the city for several centuries, binding logs together to float to the timber mills. It is a lovely area, similar to Donnybrook where I live, in that it opens up to timber country.


In Pforzheim I first gained an apprenticeship as a goldsmith and then studied for a diploma in jewellery design. I then worked as a jewellery designer, creating prototypes which went into limited edition production lines. I learned techniques in the industry I never would have learned at art school. It is a very different approach.


After my emigration to Western Australia in 1985 I taught jewellery design at Bunbury TAFE for five years, conducted many workshops and taught at Albany Summer School for seven years.


Very quickly my work was presented throughout the country and I exhibited both in Australia and overseas. My work is represented in the Art Gallery of Western Australia and the City of Bunbury Art Collection. I was first prize winner and Highly Commended in the Bunbury South West Survey Exhibitions for 5 consecutive years in the 1990ies.


I get inspired by architecture as well as nature. Travelling in Australia, experiencing the Outback and in awe with the Australian landscape, I deeply enjoy the land and a simple country life style. The Australian landscape never ceases to amaze me. I transform into metal that which already has been put into form.